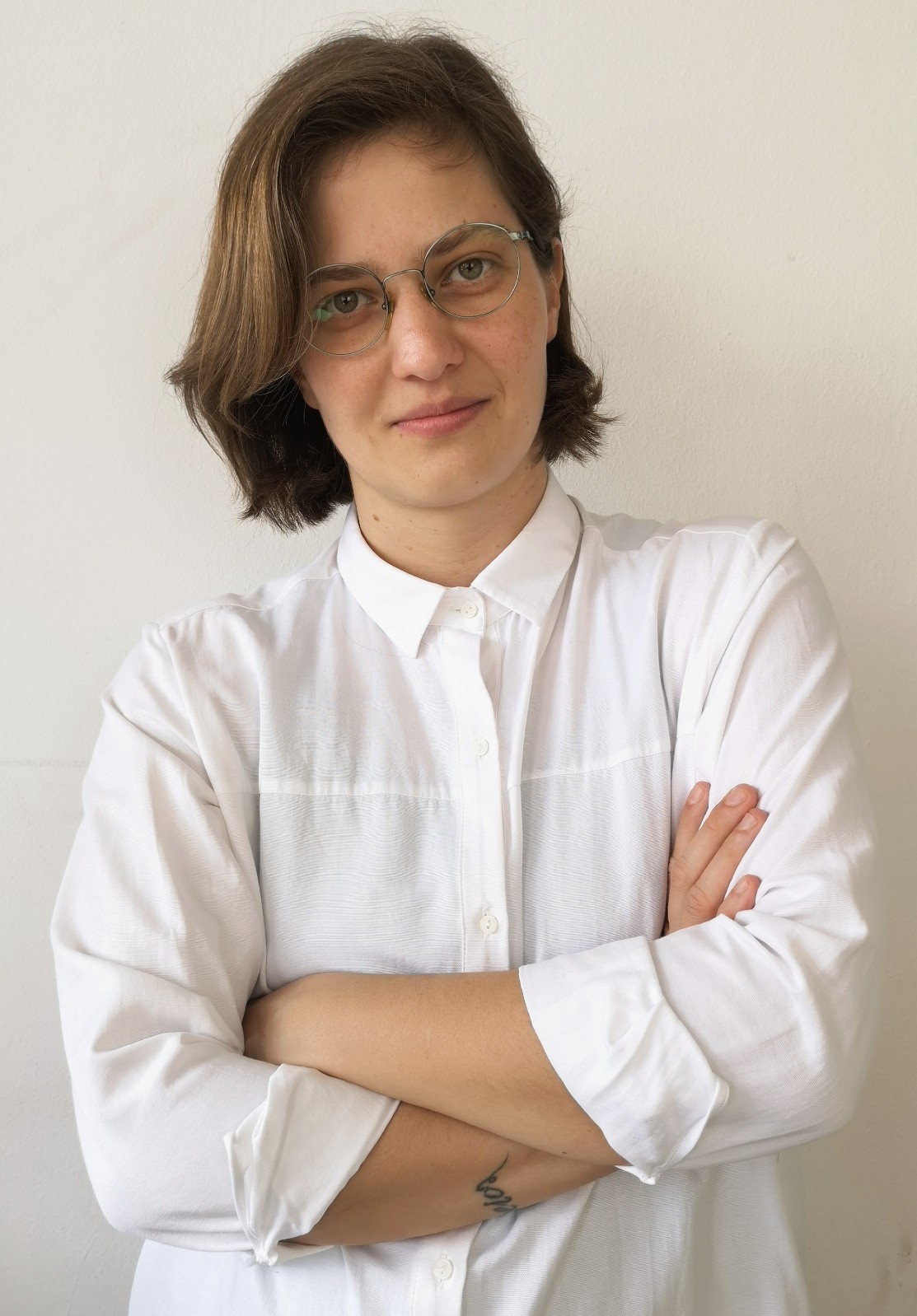 Andrea Knezović (1990, Zagreb) is a visual artist and researcher, with a Masters's degree in Artistic Research from the University of Amsterdam (2019) and a B.A. (Hons) in Visual Arts from A.V.A- Academy of Visual Arts, Ljubljana (2014). Based in Amsterdam, and roaming between Ljubljana, Tel Aviv and Zagreb, Knezović is an artist who explores threshold states and ambiguities within social contexts.
Her artistic and academic research is dedicated to the investigation of socially engaged discourse, mainly encompassing topics relating to identity rites, liminality, the instrumentalization and institutionalization of the imagination, and the impact of the neoliberal 24/7 temporal paradigm on socio-cultural value production. Knezovic's work underlines the relationship between existentialism and abstraction throughout various types of fabulation, artistic research and playfully deconstruction of the dichotomous circumstances of social conditioning.
She has published theoretical text as well as fictional prose in numerous international cultural journals such as MIT – Thresholds Journal, Lish Journal, Simulacrum Jurnal- Tijdschrift voor kunst en cultuur and Biennale of Young Artists of Europe and Mediterranean ( Young Slovenian Artists ). Her work is part of the SCCA-DIVA Archive collection and was nominated for the Essl Art Award in 2013 and 2015.
She has been exhibited in museums and galleries across the world, including Kiribati National Museum and Cultural Centre, Bikenibeu; Nieuw Dakota Gallery, Amsterdam; NEVERNEVERLAND Gallery, Amsterdam; The Museum of Contemporary Art Metelkova, Ljubljana; Škuc Gallery, Ljubljana; 12 Star Gallery, London, UK; Kino Šiška, Ljubljana; City Museum & Gallery, Ljubljana; The Israeli Center for Digital Arts, Holon; Aksioma Gallery, Ljubljana; Künstlerhaus, Klagenfurt; The Center for Contemporary Art Celje, Hanikah Gallery, Sarajevo